Documents / Workflow
eTrack's Document Management is a general repository for any 'document' such as Contracts, Policies, Procedures, Drawings, Emails, Letters, Faxes, Specifications, Reports etc.
Key Benefits
Built in editor to create your own templates or customize eTrack's.
Insert database fields, custom reports and even graphs.
Add images, tables, formulas, headers/footers.
Save to existing file system with no changes needed.
Email and auto attach as PDF
Easy navigation and powerful search by any item in eTrack tree
Document Management
Whatever you search for or select, you can view the documents associated with that item and everything under it in the eTrack tree. For example all documents to do with a Client, a Project, a Consultant, a Council, an individual contact or specific groups of Documents. You can then filter and sort the documents. Alternatively you can search for any document in the system by number or part of the name.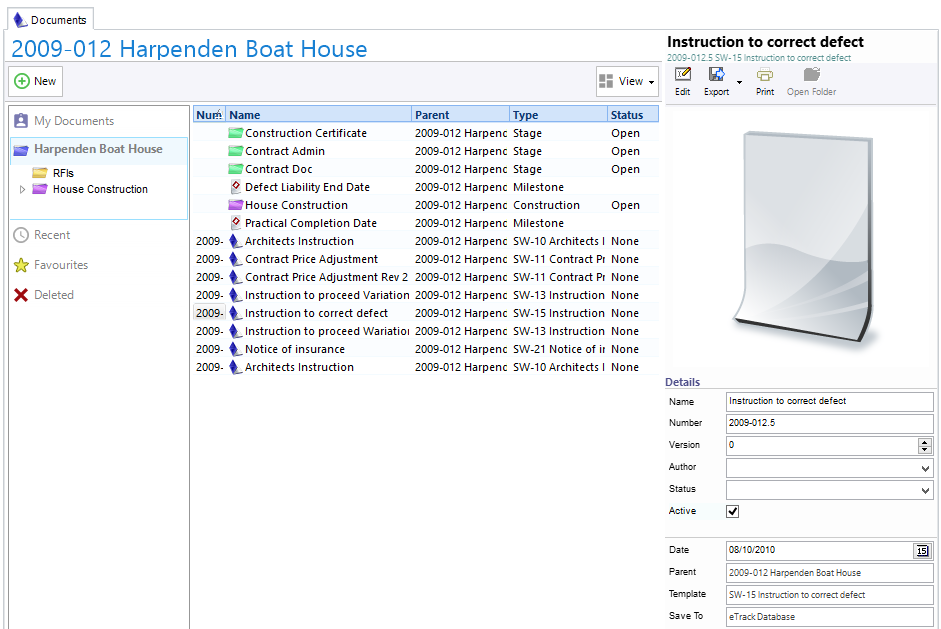 Edit Documents
eTrack has a built in document editor. Insert text, images, tables, headers and footers. You can quickly insert common fields and there is an advanced page to insert any field from the database. You can also insert custom reports and graphs.
When a document is created, all inserted fields and reports are automatically populated. These are then locked but can also be refreshed.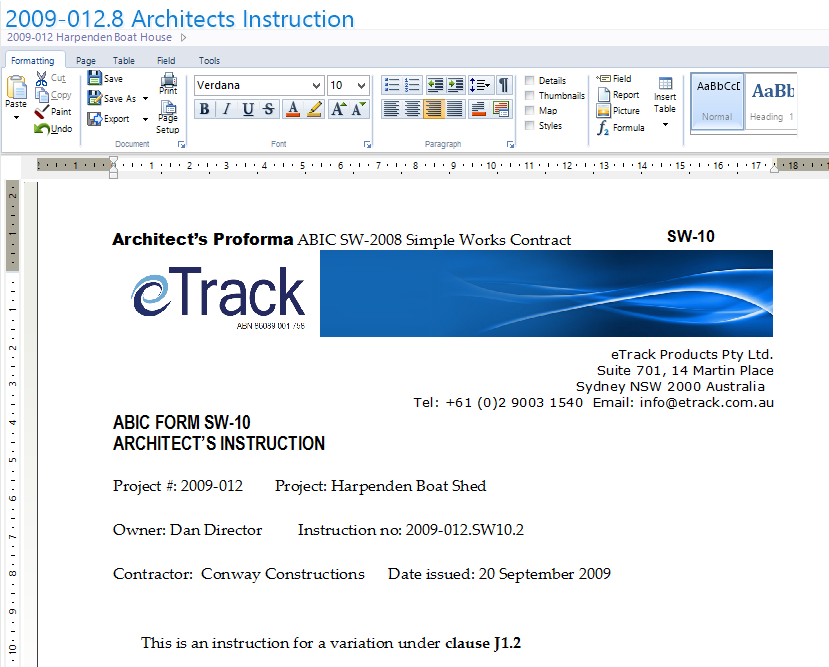 Folder and File Management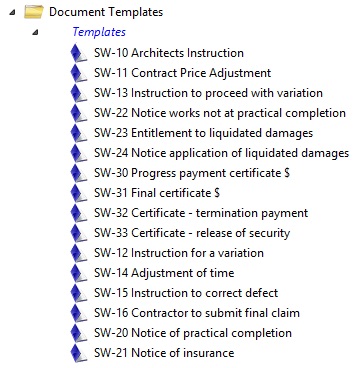 An important benefit of eTrack is that it works with your existing folders and files on your file server. You will still be able to access your files on the server normally, should eTrack not be available for any reason.When a project is created, folders can be created on your file server depending on the project template selected.Documents can be created from an eTrack template and stored in eTrack and/or in your existing file server. The location under a project on the file server can be pre-defined for each document template.Existing files can also be attached and managed in the same way as internally created documents. When an attached file is opened, the relevant program is launched to edit it.
Version Control
Some document types may benefit from simple sequential version control. For these documents, each time it is edited, its status is changed to locked and the currently logged in person, date/time are recorded. Other staff can not edit this document (via eTrack) until it is replaced and 'unlocked', either by the same person or the administrator. A version number is assigned to each revision of the document.
Workflow
eTrack also has powerful workflow. Predefined workflows can be designed as templates with previous and next steps and security provided on who can approve a step. Different workflows can be associated with different document types or any other type in etrack such as projects, stages or contract administration registers such as RFIs and defects etc.