Invoicing
After viewing WIP and Profit etc in the Accounts tab and preparing what to invoice, eTrack will print your invoices to a comprehensive selection of templates. Full batch processing is provided as used by government audit offices to invoice thousands of invoices a year. Invoice details can then be exported to your accounting package.
Interface to Accounting Package
eTrack is designed to interface to your accounting system or financial management system for payroll, general ledger and tax. Account codes are defined in eTrack for Time, Tax, Consultant and Disbursement types etc and the granularity of export defined, so you do not need to change your accounting setup.
eTrack has interfaced with Xero, MYOB, Quick Books, Sun Financials, Great Plains, Axiom, Navision, Peoplesoft, Adept, Delta Vision, SAP, Oracle Financials, Progen.
Print Invoices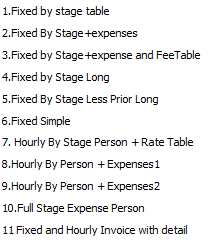 Print one invoice from eTrack or batch print multiple invoices to eTracks pre-made invoice templates (see opposite). You can tailor these with your own logo, fonts and text or create your own to satisfy different clients. For example, you can include: time based or fixed price fees, rate tables, roles or staff, past and remaining fees by Stage, disbursement and consulting types, c/o fields, billing contacts, PO number etc. A manager can enter a textual description in eTrack to appear on the invoice, and include Timesheet comments or use them as a guide. Invoice numbering is automatic and can be unique or unique within the project.

Track Payments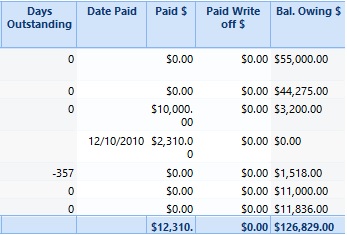 eTrack will also track payments or receipts and days outstanding (aged debt) for the benefit of managers who do not have access to your accounting system.