The eTrack all-in-one Practice Management System has all the features you need and is beautifully easy to use. It has minimal setup costs and can be installed locally or used in the cloud. Every staff member has their own licence so they can all be continually logged in anywhere in the world.
eTrack has different out-of-the-box configurations specifically tailored to your industry, for example architects, interior designers, quantity surveyors or engineers. The examples shown in this web site are for architects but can be configured for any Industry.
Feature Overview
Benefits at a glance:
All staff can access all day – no concurrent licences so you never need to log out!
No costly deployment fees that use your valuable time – our goal is to be totally intuitive.
We will never stop you accessing your data (eTrack becomes read only if subscription expires.)
Word class graphical scheduling and resource management, auto updated from Timesheets.
Send and receive Emails, edit and track Documents and store in your existing File system.
Complementary Maintenance Console to make IT support a breeze.
Install locally; allow us to host it in the Cloud; or install your own private cloud.
Used and endorsed by government audit offices providing you with due diligence of quality and maturity.
Intuitive User Interface
eTrack has a modern clean, intuitive user interface with fast navigation. The core developers have been with the company since the start in 1999 and maintained a consistent approach which means minimal training.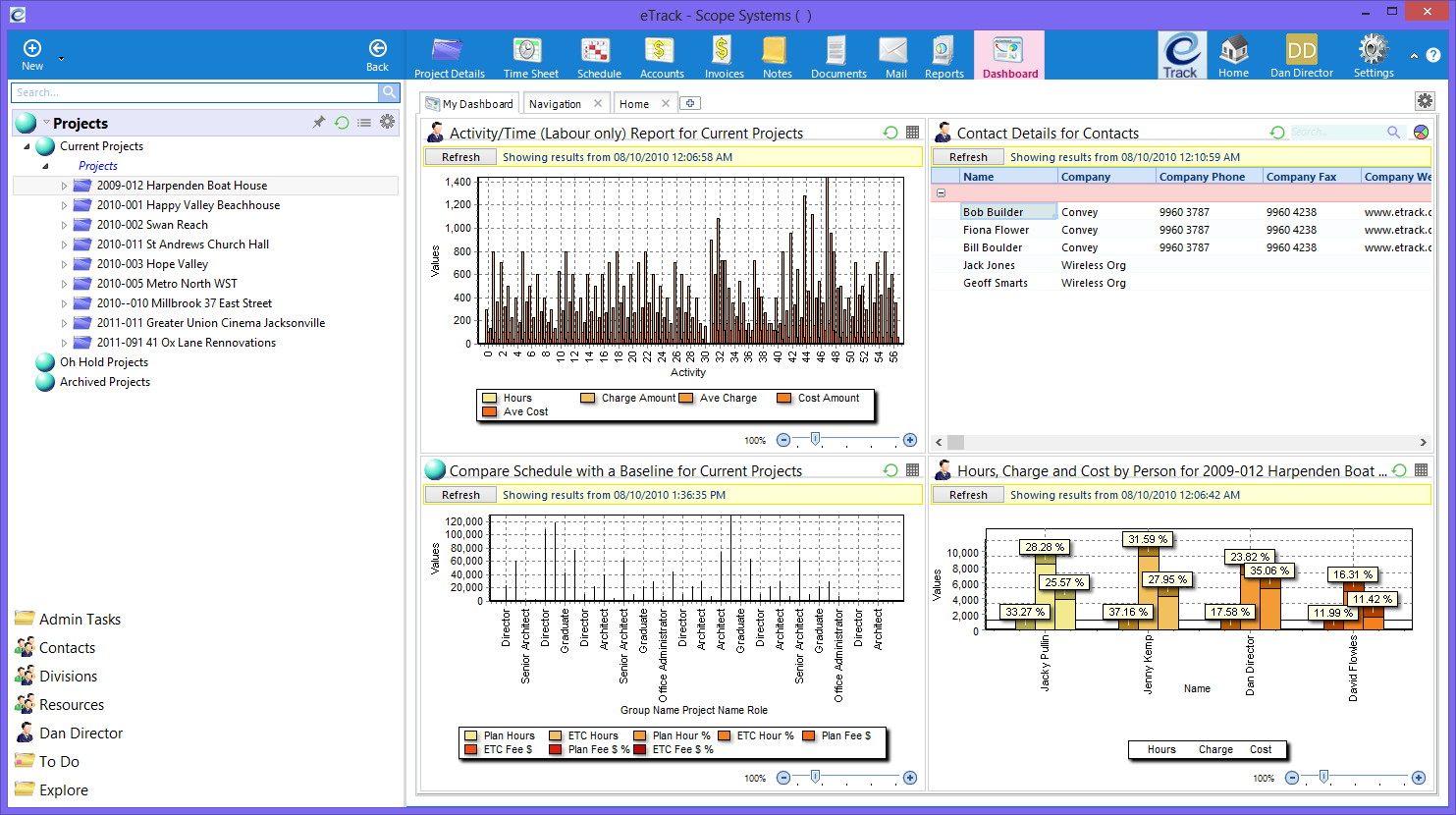 Project Repository
Central repository for all work of any hierarchy or terminology.
Eg: Programs, Portfolios, Projects, Stages, Tasks, Activities
Eg: Issues, Risks, Actions, Calls, Change Requests, Requirements, Tests.
Related contacts such as Clients, Consultants, Stakeholders, Roles
Define your own project information of different types
Budgeting & Proposals
Plan and track budgets and write proposals
Fixed price, Time based, % based, lump sum or any combination.
Track Plan, Actuals, Estimates, Forecasts, Variances, Margins and Profits.
Track Charge and Costs and define Rate Tables for ease of use.
Define Cost Categories: Hour, Day, Shift, Travel, Away allowance
Timesheets & Expenses
Enter Weekly Timesheets and Expenses on a single screen
Fast to complete to encourage staff
Intuitive to use so minimal training
Rich in features (or hide to keep simple).
Fully integrated with schedules and accounts.
Schedules and Resources
View Graphical Schedules (Plan, Actual and Estimates) with Resource Allocations on one screen.
Very easy to create and update schedules.
Schedules, Resources and Details all on one screen.
Resource allocations updated as schedules are edited.
Updates automatically from timesheets.
Interfaces with Microsoft Project.
Issues, Risks & Assets etc.
Define any number of Registers to track such as Issues, Risks, Letters, Enquiries, Complaints, Diary Notes, Requirements or Assets etc.
Define your own registers with different parameters.
Easy to navigate, filter, sort and step through.
In place editing in the Register View.
Roll up reporting.
Contacts and Correspondence
A central, multi user repository for all contacts: staff, clients, consultants, contractors, suppliers, councils etc.
'Instant' lookup
Single portal to all information
Maintain all correspondence, issues and documents
Synchronize with Microsoft Outlook
Document Management
While not a full blown DMS, eTrack includes all the main features needed for managing project documents.
Link or embed unlimited files.
Interface with Microsoft Word
Version control: check out, edit, check in.
Link to workflow to track document progress.
View status of documents at any level by project or person etc.
Account Management
The Account Sheet gives a view of all work, resources, time and expense entries, and a journal of all accounting operations.
Approve time by project (rather than by person)
View WIP, charges, costs and profits.
Prepare invoices
Enter write-offs and adjustments
Fully transactional and audited.
Invoicing & Export
Invoices and payments are tracked in the Invoice Sheet and can be printed and exported.
Assign invoice numbers and print invoices, either individually or in batch.
Design unlimited Excel templates and include eTrack data.
Export Invoice, WIP and Write-off amounts etc to your Accounting system or FMS,
Import or manually record payments and receipts.
Reporting & Dashboards
Reporting in eTrack is powerful, customizable, intuitive, graphical and optionally 'instant'.
Build unlimited custom reports with built in Report Writer.
View as a table or graphically.
Filter, sort, drill down into reports.
Choose to view 'instantly' using pre-calculated results.
Schedule reports to run and be emailed, eg. nightly exception reporting.