The eTrack all-in-one Job Management System is specifically designed for Engineers and has all the features of a 'mini ERP' system.  It includes detailed planning screens, one click document proposals and supports all the complexities of a modern growing company, yet is beautifully easy to use.  Install locally or use in the cloud and interface with you finance package.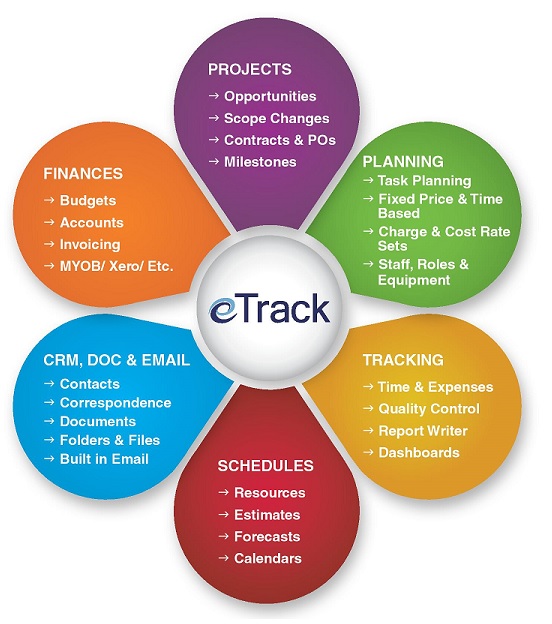 Benefits at a glance:
All staff can access all day – no concurrent licences so you never need to log out!
No costly deployment fees that use your valuable time – our goal is to be totally intuitive.
We will never stop you accessing your data (eTrack becomes read only if subscription expires.)
Word class graphical scheduling and resource management, auto updated from Timesheets.
Send and receive Emails, edit and track Documents and store in your existing File system.
Complementary Maintenance Console to make IT support a breeze.
Install locally; allow us to host it in the Cloud; or install your own private cloud.
Used and endorsed by government audit offices providing you with due diligence of quality and maturity.
Intuitive User Interface
eTrack has a modern clean, intuitive user interface with fast navigation and many dashboards.  You can be up and running quickly with a fully configured out-of-the-box Engineering configuration, and then easily tailor it specifically to your terminology and business structure.