eTrack's flagship feature that sets it apart is the world class scheduling and resource management.   Engineers and Government Audit Offices use eTrack to schedule 100's of staff across 1000's of projects so you have the confidence it is fast, robust and scalable.   Whether or not you need it now, it is important to invest in a future proof system and you only pay for the modules you use.
Key Benefits
All on one screen: Schedules, Timesheet entries, Baselines, Resource allocations and utilizations…
View forecast $s by day, week or month.
Automatically updated from Timesheets.
Resource allocations updated as schedules are edited.
Very intuitive and fast to learn.
Combines the power of a spreadsheet with the ease of use of a Gantt Chart.
Includes milestones and dependencies and allows separate scheduling of staff, roles and equipment by day or by week.
Project Schedule View
Following is a simple schedule with milestones, phases and assigned resources.

The terminology, structure and number of levels will be configured to match your business, for example: Project, Phase, Task, Activity   or   Job, Opportunity, Activity.
Columns can be displayed such as Charge$, Utilisation% and Estimate to Complete Hours as shown above.
The schedule shows remaining work (ETC) as red bars, actual timesheet hours as green bars, and plan or baseline hours as blue bars.   Milestones are shown as diamonds in blue (plan), red (forecast) or green (complete).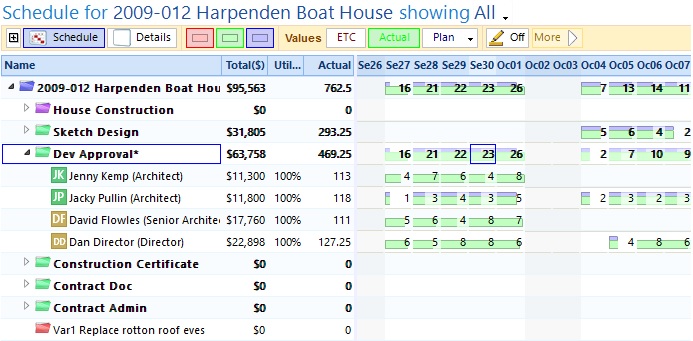 The above picture shows the same schedule in Hours/Day resolution with Actual Timesheet hours graphically displayed.
Resource View
While scheduling your project, you can see immediately how this effects the allocation of your resources.  Assigned staff, roles and equipment will go red if over allocated and you can expand each Resource to see their work.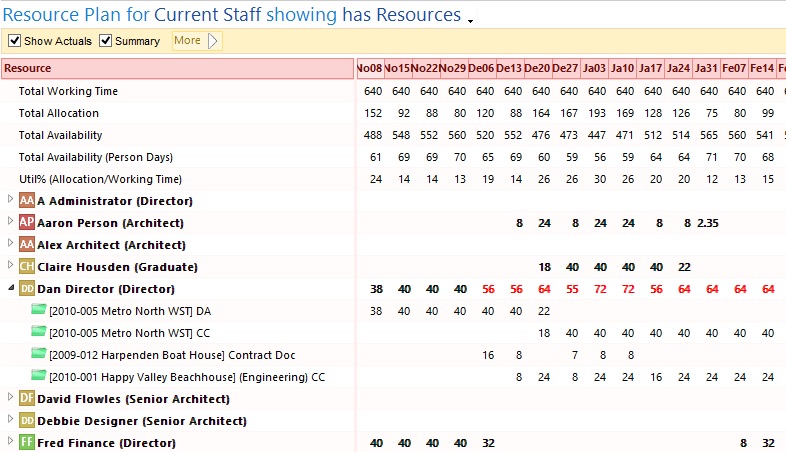 A summary view as shown at the top of the above picture shows allocation, availability and utilization across the selected group of resources, both for the past and the future, which updates as you edit the schedule.
Calendars (Non Working Time)
Each staff member has a calendar allowing non working time such as holidays or training to be scheduled. There is also a Company Calendar for public holidays and company shutdowns that each staff members' calendar inherits.
Program or Portfolio View
A program or portfolio of projects or jobs may be viewed in the schedule at the same time. Each project can be expanded and edited separately. Dependencies with leads and lags can be created between projects or even between tasks within different projects.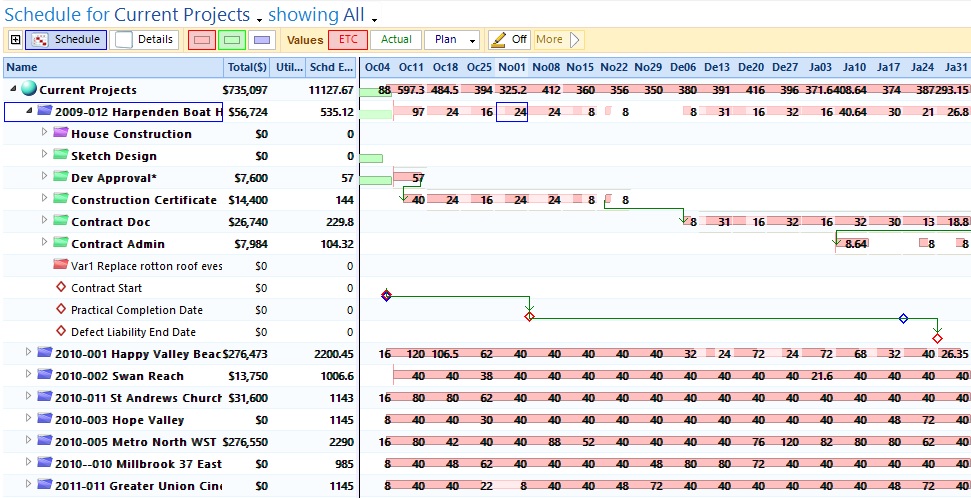 All-in One View
The schedule and resource views can be displayed on one screen to give you the complete picture as you update your project schedules. The picture above is the same schedule in Charge$/Week resolution.