Let eTrack be your central repository for all contacts: staff, clients, consultants, contractors, suppliers, councils etc. eTrack is designed to be always open on staff's desk and so provides easy, multi user access to contact details and correspondence. A full interface with Outlook exists so you can synchronise your mobile devices.
Contacts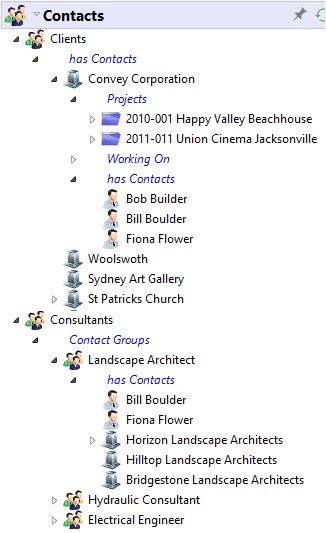 Using eTrack as a central repository for all contacts means you can…
Share contact details across your company to keep uptodate.
Instantly look up the details of a contact (sub second across thousands of entries)
Have a portal to everything to do with a client: contact details, projects, correspondence, relationships, budgets, revenue, profitability, documentation.
Automatically populate invoice templates.
Synchronize with Microsoft Outlook and your mobile phones and devices.
Use for mail merges and statistical reporting.
To the right is one example of a contact hierarchy that is fully configurable, and below shows the details for a typical contact.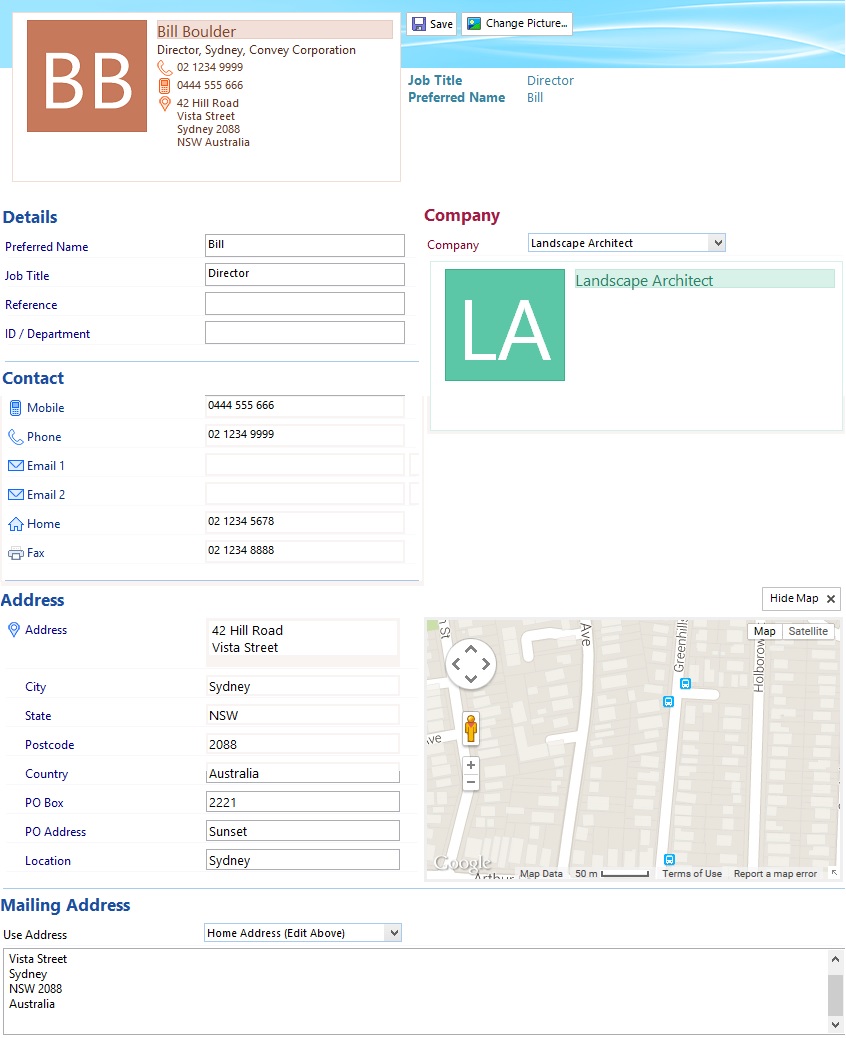 Notes and Correspondence
Notes such as correspondence, progress, issues or actions can be added to Contacts, Projects and any other entity at the click of a button. The logged in user and date/time are automatically inserted. A scrolling chronological history of all entries can be viewed at once without having to click on each entry to read.
Microsoft Word documents such as letters and faxes may be embedded or linked and edited through eTrack, either directly or via the eTrack Document Management module. When selected the appropriate program is automatically launched.
Using eTrack for correspondence means you can…
Maintain a running history of notes such as correspondence, actions, progress and issues.
Send entries by email to staff and contacts or have them pop up when another user logs on.
Embed or attach letters and documents with a full interface with Microsoft Word.
Automatically view action notes when you log on.
Hyperlink to other Document Management Systems such as TRIM or CHRIS.