eTrack is a repository for any information you wish. It has an innovative design allowing any business structure or terminology to be configured quickly without program changes.
A typical configuration groups information by Projects, Contacts, Admin Tasks, Resources and the Logged in User and allows simple navigation using a tree. The following pictures show expansions of each of these tree areas. The tree structure and terminology can all be easily changed without code changes: for example you could add Divisions, Locations, Project Types, Systems or Products and relate Projects and Contacts to these.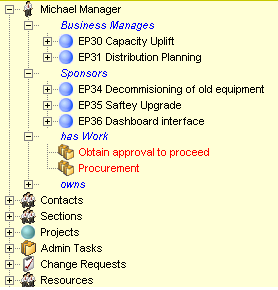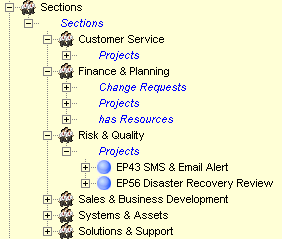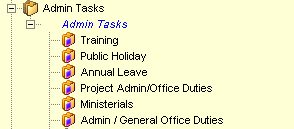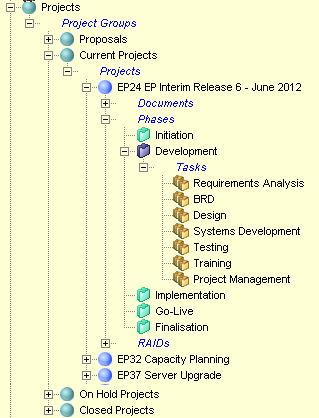 Intuitive Menus and Fast Navigation
The tree is multi dimensional, so what ever you search for, you can see everything related to the selection. At the same time eTrack is project concentric, client concentric, consultant concentric…in fact it is 'multi concentric'! Whenever a relationship is created such as between a Client and a Project, the reverse is automatically created so you can see all projects for a contact or all contacts on a project directly without having to run reports.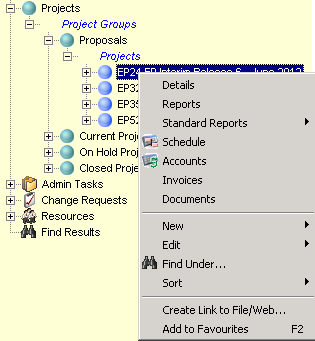 eTrack has very few menus and icons for you to learn. It has a New button, a Find that is across the whole system (you don't have to say what you are looking for) and a Back button. Everything else is accessed from context sensitive menus that change depending what you click on. If you don't know how to do something, or even what you can do, just right click and eTrack will tell you, complete with any keyboard shortcuts.
Project Details
The first tab changes to show the details of whatever is currently selected in the tree. Other icons provide one click access to Timesheets, Schedules, Accounts, Invoices, Reports, Documents, Dashboards, Emails and the Report Writer (depending on security).
Following shows a typical Project Details screen which is configured to your business.