Government Audit Offices and Certification Bodies
eTrack has been used by Australasian Government Audit Offices since 2007 and is perfect for tracking Financial, Performance and Information System Audits plus Internal Projects and Administration activities.
It is also used by Certification Bodies for Building Professionals such as Architects and Surveyors, and for auditors of Australian NDIS Providers and Support Coordinators.
Rich in features commissioned by Audit Offices such as simple budgeting, ACAG benchmark reporting and (IPSAM like) quality checklists, eTrack can be quickly deployed with low whole of life costs.
Benefits of the eTrack Company
Proven by Australian Audit Offices over 11 years.
100% Australian made and supported, celebrating 20 years.
Experts in processes and systems over 30 years.
Experts in fast and accurate data migration of existing information.
GITC Compliant (Government Information Technology Contracting – Australia)
Benefits of the eTrack Product
Support many ISO standards and ACAG Benchmark reporting.
Track all Audit types: Financial/Attest, Performance, IS Audits, Internal Projects.
Simple budgeting of audits with automatic forecasting of milestones.
Feature rich in Quality control features such as secure workflow and (IPSAM like) quality checklists.
Seamlessly integrated with Document, File and Email Management.
Centralised repository of all contacts and correspondence.
Graphical scheduling and resource views auto updated from timesheets.
Powerful real time Dashboards.
Install locally or use in the Cloud using Microsoft Azure.
All staff use at once so quickly becomes the source of truth.
Uniquely customisable thanks to eTrack's 'object' software architecture.
eTrack is now a proven practice management system for Australasian Audit Offices supporting ACAG practices and benchmark reporting. Other Audit Offices will benefit from an almost 'out of the box' solution and receive the same level of loyalty and commitment from the Australian eTrack staff as enjoyed by other Audit Offices.
eTrack's Auditing and Certification Features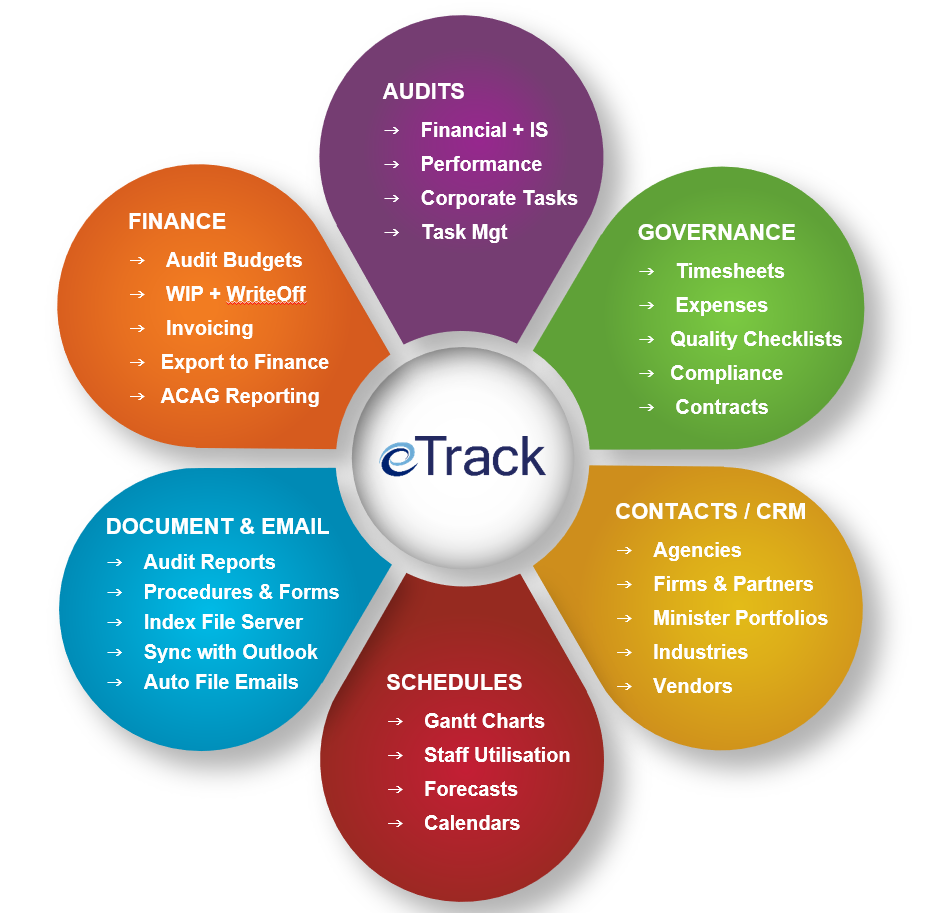 Central Repository
eTrack is a central repository of all information that is fast to find and navigate such as.
Financial, Performance, IS Audits and Internal Projects.
Clients, Agencies, Firms, Partners, Ministers and Industries.
Issues, Risks, Management Letters, PIDs, Enquiries and Complaints.
Divisions, Branches, Teams, Staff, Roles, Levels and Equipment.
Corporate 'non-productive' Tasks and Leave.
Each year Financial or 'Attest' Audits may be bulk 'rolled over' to the next year ensuring accuracy and saving significant time.
Customised Views of Audits
Search or navigate to an Audit in a myriad of ways and display the details that may be customised.
View all related information including contacts, managers, budgets, schedules, documents, emails, invoices, risks and issues.
Keep progress notes on all correspondence throughout the company that can be quickly viewed in one holistic scrollable list, categorised and searched.

Simple Audit Budgeting
Budgeting an Audit is simple and quick.
Start by entering your total budgeted dollars and hours and a Start Date (see below).
Tailor the Tasks that were copied from a template for this Audit and estimate the Budget $, Hours and Duration in weeks for each.
That's it….!
eTrack will calculate the budgeted end date of each Task.
Actual Hours are populated from Timesheets and the Remaining Hours shown.

A trend graph shows you how the (green) Actual Hours are tracking against the (blue) Budgeted Hours with markers showing earned value of each of the Tasks in relation to the budgeted end dates.

Quality Checklists and Compliance
Build a knowledge base of quality checklists defining all the steps needed for Financial, Performance and IT audits etc similar to IPSAM.
These are used to guide staff and provide a record as to what, who and when steps are taken. Documents can be attached providing more information together with results. The checklists can also be used to help estimate the hours, costs and duration of Tasks.
Compliance Registers can be defined to track Workplace Health & Safety, Risks, Incidents, Complaints and Training etc. A centralised 'Continuous Improvement' register collates relevant entries from the other Registers to prove your quality processes are being followed by all staff with a focus on continually improving the efficiency and capacity of the audit office.

eTrack has an incredibly powerful Audit Trail that provides details of every change made to every entity. Using advanced 'feed' technology, database tables are collated and presented as a history of changes that can be filtered and searched.
Easy Time and Expense recording
eTrack makes completing timesheets a breeze and staff are encouraged since reimbursable expenses are entered on the same screen.
Because eTrack is the source of truth of relevant information for each staff member they tend to have it open most of the day which encourages continual use.

CRM of all Contacts and Correspondence
Maintain a centralised repository of every Client, Agency, Minister, Contract Firm and all other companies or individuals.
Navigate to Audits and run reports from any entity.

Maintain a holistic view of all correspondence from all staff that you can quickly scroll through when someone calls without having to click each entry to read. Cut and paste snippets of emails and pictures. Search and categorise each entry and optionally show timesheet comments.

ACAG Reporting & Powerful Dashboards
eTrack includes ACAG compliant benchmark reports that may be tailored as required.
Dashboards these days are a given but given the large extend of the data tracked, eTrack dashboards provide extensive, invaluable information. They are fast and all run in real time so up-to-date.
eTrack comes with a built-in report and dashboard writer allowing easy editing and creation to meet your business needs. Dashboards can be role based so each staff member has access only to what is appropriate and you can choose the security levels.

Document Management + Fileserver Index
Document Management is integral to eTrack and enables documents to be edited using familure Microsoft Office applications such as Word and Excel. A hierarchy of document templates are created with fields populated from eTrack on creation.
eTrack will also index your file server so you have one holistic view of every Audit document with no duplication. If you create a file outside eTrack it will be indexed overnight without you having to 'check it in'.
Search millions of documents in seconds and view thumbnails, meta data, status, revisions. Use Revision Control and secure workflow to assign reviewers and approvers to each document.

Built in Emails with auto Filing
One of staffs biggest headaches is to keep up with the filing of emails which being an Audit Office is mandatory!
eTrack synchronises with all email systems and using rules automatically files emails against Audits and saves attachments to the file server. New Emails are filed as they are sent so you don't have to worry.
Instead of managing three copies of your audits: a) in your practice management system; b) on your file server and c) in email public folders, using eTrack means you only need one. eTrack's structure is automatically created by indexing your file server and emails are filed against this structure eliminating the need for Outlook public folders.

Graphical Scheduling with Timesheet updates
Each Audit may be viewed and scheduled graphically using the eTrack Scheduler.
Choose the resolution from days, weeks or months and whether hours or dollars are displayed.
Actual time (in green) comes directly from the Timesheet so managers instantly know in real time who is working on their audits. The remaining schedule (in red) automatically decrements as time is booked and any dependencies updated. Schedules can be Baselined that are shown in blue.
Editing the schedule is a breeze. Simply edit cells like a spreadsheet or 'paint' time with the mouse, or 'fill' the budgeted hours from the start date automatically.
The administrative overhead has been kept to a minimal by timesheets updating the schedules and schedules updating the resource views, all in real time. A popular feature used to keep schedules accurate with minimal changes is to allow all staff to book time but force them to use up the time of someone who is assigned.

Resource Allocation and Utilisation
Knowing the allocation and availability of your staff is paramount to maximizing efficiency. eTrack's Resource View shows the Audits each staff member is working on, automatically updated from the schedules along with non-working time such as leave.
If a staff member is overallocated (in any resolution) their hours will go red. However, eTrack doesn't force you to micro-manage the schedule and you may choose not to smooth resourcing if only slightly over allocated or if not overallocated when viewing monthly.
To assign or replace staff on an Audit simply drag and drop them from the Resource View to the Schedule.

Prepare Invoices and track WIP + Write-offs
Everything is clearly displayed on one screen: Revenue Forecasts, Fees, Actual work done, WIP (Work not invoiced), To Bill (Fee not invoiced), Writeoffs and Adjustments. Previous Invoices are listed, staff and every timesheet entry viewed plus all disbursements and sub-contractors.
This makes it easy to determine the % or $ so your auditors are empowered to prepare invoices while maintaining security for the finance team to deliver.

Email PDF Invoices & Export to Accounts
Invoices can be edited, saved, printed and, in two clicks, a batch of invoices can be converted to PDF and template emails prepared ready for final review and sending.
General Ledger information is seamlessly exported to your accounting system and payments tracked in eTrack.
Insightful dashboards of cashflow and profit flow from all the information.