Accounts & Invoicing
eTrack's Invoicing is robust, powerful, complete and intuitive, proven over decades and used by almost all of our clients to invoice thousands of invoices a year.
Typically manages prepare invoices using WIP, past invoices and actual charge etc. as a guide and finance staff create and send invoices, although the process is completely flexible as controlled by security.
Key Benefits
A decade of use with little change that shows it is mature, complete and robust.
Everything you need on one screen to guide you to how much to invoice.
Peace of mind that all of eTrack is ex Tax except where explicitly stated so no confusion.
Prebill in advance by creating an adjustment that automatically decrements as time is booked.
Track both work done not invoiced (WIP) and fee not invoiced (To Bill).
Expand detail to view and write-off down to the timesheet and expense entry.
Convert a Forecast to an Invoice simply by entering an Invoice $.
In 2 clicks, convert a batch of invoices to PDF and attach to pre-prepared Emails – a huge time saver!
Seamless export to Xero, MYOB, Quickbooks, Recon and many other accounting systems.
Everything you need to prepare an invoice is available on one screen without having to search around for it. Select a project or perhaps yourself to see the projects you are responsible for.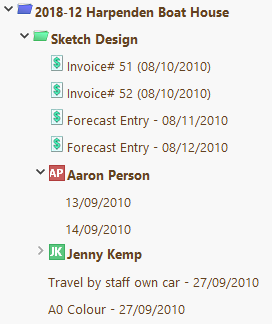 View fee type, fees, actual hours and charge, invoiced $, Work in Progress (work not invoiced) and To Bill (fee not invoiced).
Expand to see past invoices, forecasts, staff hours with the charge rate at the time they did their timesheet plus expenses.
Invoice Entries are created for Stages and Variations and may be combined onto one Invoice. You may select what time or expenses are included in an invoice or have eTrack automatically include time and expenses in chronological order up to the Invoice $ you enter.
Prebilling Time
An important feature may be to invoice the client for work that hasn't been entered into eTrack yet.
There are many legitimate reasons such as a deposit, staff away or behind with timesheets, suppliers not given you their invoices yet or simply that a client takes a long while to pay.
Any amount of Fixed Price work can be invoiced up to the Fixed Fee.
If Time based work is invoiced more than the WIP, eTrack will prompt if you would like to add an adjustment. This may automatically decrement as new time is entered until the adjustment gets to $0 before the WIP starts incrementing. This avoids the painful process of manually writing off the adjustment as new time is booked.
Creating Invoices
Once the Invoice Entries are ready, a single click will create all the Invoices. An invoice number is created that can be unique or unique within the project and GST added if applicable. The Client details are verified and a PO number selected.
Notes may be added to be included on the invoice, with timesheet comments and the last note used displayed as a guide.

Invoice Templates
eTrack comes with many standard invoice templates of you can customise your own. They can may include: stage breakdowns, separate variations, role or staff hours and charges, agreed fees, invoice $ plus remaining $ and % complete, rate tables, a list of previous invoices, expense, disbursement and sub-contractor charges.
Multiple templates may exist for hourly work, fixed fee work, combined hourly and fixed fee or credit notes. You may also have different invoice templates to keep specific clients happy!
Emailing PDF Invoices
Complementary to Invoicing is the ability to email PDF Invoices from inside eTrack without the need to purchase the Email Module.
With 2 clicks, you can batch convert multiple emails to PDFs and attach them to Emails. The Email can be selected from a template and auto populated and further edited.
Optionally the Project Manager can be notified to review and send or Finance can send. Emails are automatically filed in eTrack and also on your file server.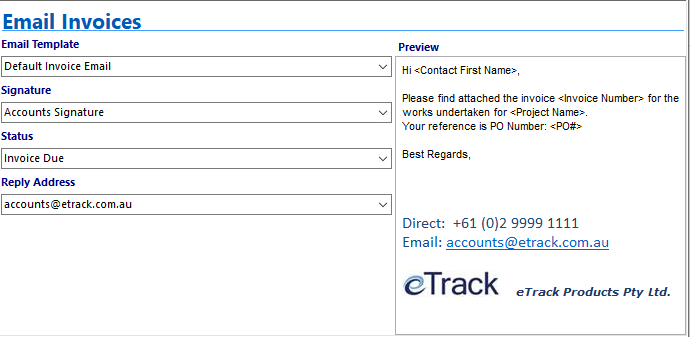 Supplier (Creditor) Invoices
Invoices from Suppliers and Sub-Contractors are entered in a tab on the Company.
Details of the (creditor) Invoice are entered and one or more Expenses created on the Project Stages. One invoice may include work on different Stages or Projects.
You may add a mark-up percentage between the Supplier Cost and the Clients Charge.
The Expense Cost and Charge add to the project budget and are optionally included in client (debtor) invoices. They may be exported to your accounting package for Supplier payments.

Xero, MYOB, Quickbooks/Recon etc Interface
eTrack is designed to work seamlessly with your existing accounting package such as:
Xero
MYOB AccountsRight
Quickbooks and Recon
Sage Intacct (coming very soon)
MYOB EXO
The generic interface can also be customised to work with other Finance systems and over the last 20 years has interfaced to Technology One, Smart Stream, Sun Financials, Oracle Financials, Navision, Great Plains, Axiom, Peoplesoft, Adept, Delta Vision, SAP and Progen.
Accounting system interfaces include:
Export of Debtor Invoices to Clients with GL codes for time and expenses.
Export of Expenses to reimburse staff.
Export of Expenses resulting from Sub Contractor and Supplier Invoices to pay Creditors.
Export of Time for payroll to pay non salary staff such as contractors.
Export of Contacts to synchonise client names and addresses.
Import of Payments.
Your existing General Ledger account codes are entered as a once off exercise into eTrack and included in the Export so everything goes to the right ledger. Every Expense Type and Sub Contractor can have a different GL and Tax code if needed. The GL code used for Time can be fixed or retrieved from the Project, the Client, a Division or Business Unit or any other related entity.
Track Payments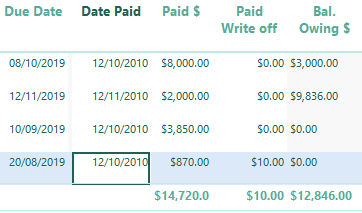 Typically not all project managers have access to your accounting package, yet when they talk to clients it is important they know if a client is up to date with payments, particularly if they are asking for more work, or favours!
Payments can be tracked in eTrack and the amount outstanding viewed. Days Outstanding and Aged WIP can be reported on.