CRM – Contacts and Correspondence
eTrack is a fully featured CRM that can be used stand alone or as part of the eTrack practice management system.
It is seamlessly linked with Document Management and Email and can be used with other products such as Sharepoint, TRIM, CHRIS, Outlook or file management systems such as Dropbox, OneDrive, Box, Zoho or Googe Drive.
Contacts are either Companies or Individuals and their multiple relationships define if they are Clients, Suppliers, Contractors, Councils or any other grouping in any combination. This means for example a Contractor can also be a Client without any duplication. Whatever is searched for you see everything related to it.
Benefits of eTrack's CRM
One central view of all contacts and correspondence forever.
Single source of truth with no duplication across client invoices, documents, emails, transmittals, project contacts, contract administration and supplier invoices etc.
View notes in one scrollable list that means quick to review when someone calls.
Seamlessly works with eTrack's Document Management and Email.
Instant search by any field across millions of contacts in real time.
Synchronize contacts with Microsoft Outlook and your mobile phones and devices.
Use with Document systems such as Sharepoint, Trim, Dropbox, OneDrive and Google Drive.
Business Card View
Complete all the details on a Company or Individual that you wish for, creating your own custom fields as required. Then view as a business card that only displays the populated fields for easy viewing.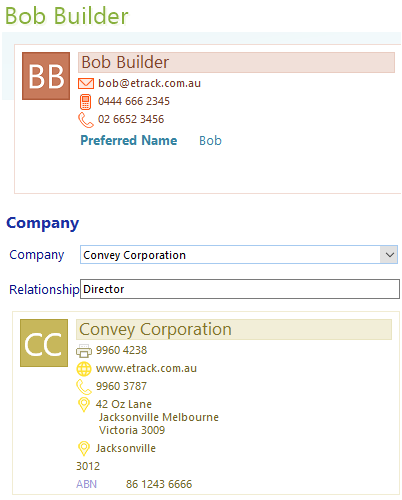 Find a Company and see all related Individuals.
Or find an Individual and see all the Companies they are related to and their position within those Companies.
Holistic view of all Correspondence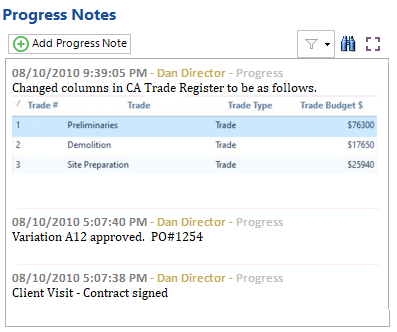 Have you ever used a system where you had to click on each note to read it? When someone calls you need to quickly see everything that has been said.
In eTrack all the notes staff make on a project or company etc. are in one scrollable list, with pictures, that can be searched, viewed full screen and filtered by category. The person and date/time are added automatically and you can even choose to include Timesheet comments.
Never again will you have to ask around the office who has said what to a Client, or try and collate correspondence from different sources.
It is so quick and easy to add a note staff are encouraged with no excuse!
Instantly Search by any field
Instantly search any characters across all fields at once.
Just start typing and eTrack will filter the results for you.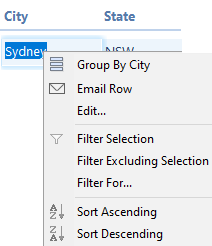 Click on a field to group, filter, filter excluding or sort the data.
Slice and dice the data by grouping multiple levels in any order.
Email the details of a row to a contact or staff member.
Track Prospects and who to call
With the generic power of the Contact Register it becomes very easy to track all your prospects.
Setup a sales cycle workflow relevant to your business processes and terminology.
Filter to list who to call today.
Edit fields 'in place' like a spreadsheet for fast, pain free updates.
Information, Workflows and Alerts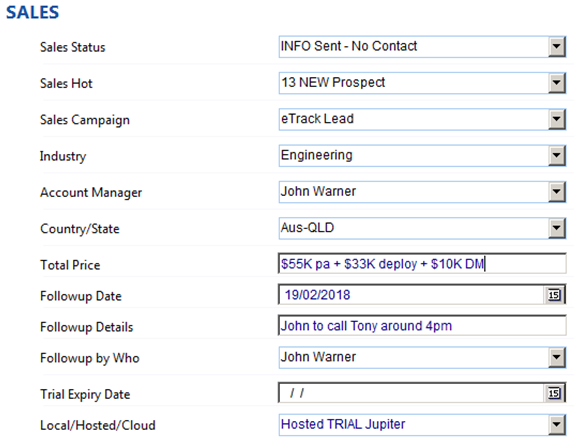 As well as your traditional contact and address details, eTrack will track any other desired information.
There are endless examples from clients such as win%, where a prospect is in the sales cycle, preferred suppliers, profitable clients, follow-up dates, the source of leads, who knows who, referrals, contract estimates, and which clients pay on time!
Slice and dice the data in any way and set up workflows and alerts so all is in control.
View a myriad Statistical and Pipeline graphs
Thanks to all the data eTrack captures, powerful graphs are available showing your pipeline by client, project status or earned value. For example graphs such as new enquiries by month, quote values, revenue won by office or sales person or prospects lost.
Graphs can be viewed as tables, added to dashboards and you can create your own with the built in dashboard writer.