Contract Administration
The project management of a construction involves tracking many interrelated budgets, communications and documents between the builder, client, consultants, council and your team.
It can be very lucrative providing you are super-efficient and never drop a ball.
eTrack's Contract Administration module will help you keep on top of everything by tracking Contract Details, Budgets, Requests for Information (RFI), Architects Instructions (AI), Trades and Materials, Claims and Payments, Variation Requests (VR) and Variation Quotes (VQ), Contract Sum Adjusts (CSA) or Variations, Extensions of Time (EOT), Defects, Meeting Minutes, Insurances, Compliance and more.
Key Benefits
Fully featured to meet the needs of Australian Building Contracts.
Centralised, holistic view across your company.
Optionally re-use your existing Microsoft Office certificates and forms, populated from eTrack.
Integrated into eTrack's Document, File and Email Management for 'one click' actions.
Link to eTrack's Contact Management (CRM) and Project Budgets (with % based fees)
Use stand alone or with the eTrack Practice Management System.
Flexible to change terminology, structures, data fields and registers as you wish.
Cloud based or install locally.

Contract Administration Registers
Projects have one or more Contracts, each with its own Budget and Registers.
Here are some typical Registers and Contract details that can be changed as you wish.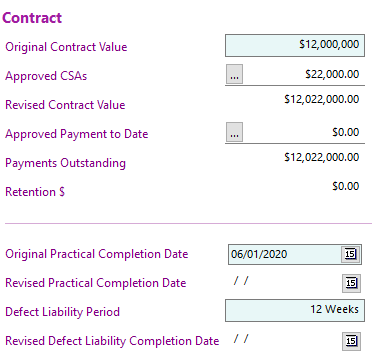 Contract Budgets
Starting with the Original Construction Value, eTrack will track changes to this budget together with claims and payments to the Contractor. The Contract budget is separate to the Project budget but linked enabling % based Stage fees that change as the revised Contract Value changes.
Also track changes to the Practical Completion Date following Extensions of Time that are all interrelated with adjustments to the contract value.
Trades
Create a list of Trades with budgets for the contractor to claim against. Optionally select a Trade list from predefined templates, edit and then re-number sequentially.
Also enter Provisional Trades, with and without Materials, and track claims against Contract Sum Adjustments.
Monitor $ and % Payments to date and the remaining budget for each Trade. View all Progress Claims for a selected Trade.

Request for Information and Architects Instructions
Maintain a central register of Project RFIs and AIs that integrates into eTracks integrated Document, File and Email Management modules to manage all correspondence, forms and documents.
Create a RFI from an email, auto populate fields and save attachments to your file server, all in one click. Then open an AI document in MS word populated with all the fields and in a second click create an emailed reply with attachments.
RFI and AI Registers may be separated and Variation Request and Variation Quote Registers added if you wish.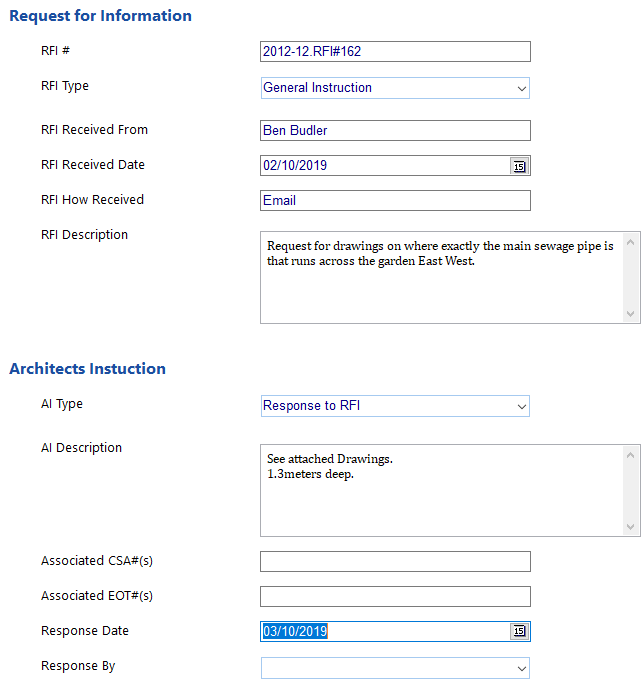 Contract Sum Adjusts (Variations)
Maintain a Register of Contract Sum Adjustments that update the Contract Value.
These may optionally result from multiple Variation Requests and Quotes that can be setup as separate Registers.
On approval, eTrack will create an entry in the Trade list to be claimed and also prompt the user if an EOT is required. Clicking Yes will create the CSA and cross reference. The CSA can also be cross referenced back to the Trade plus any associated AIs or RFIs.
A CSA will increase Stage Fees based on a % of the Revised Contract and thus also increase the WIP so the Client can be invoiced out of eTrack.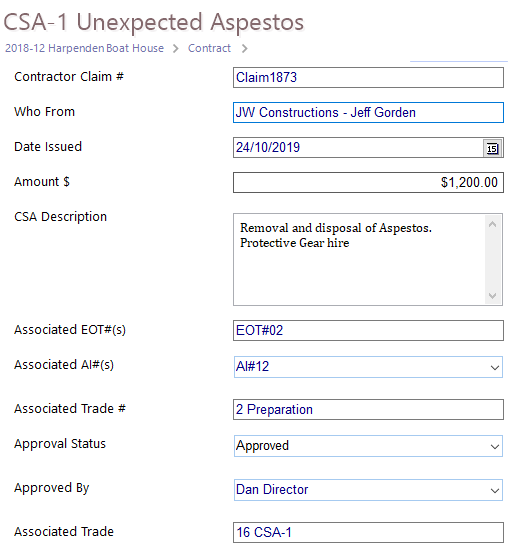 Claims and Payments
Keep a Register of Claims and Payments linked to Trades and CSAs.

Create a new Payment Certificate and track the Claim, Valuation, Retention, Payment and Paid Dates.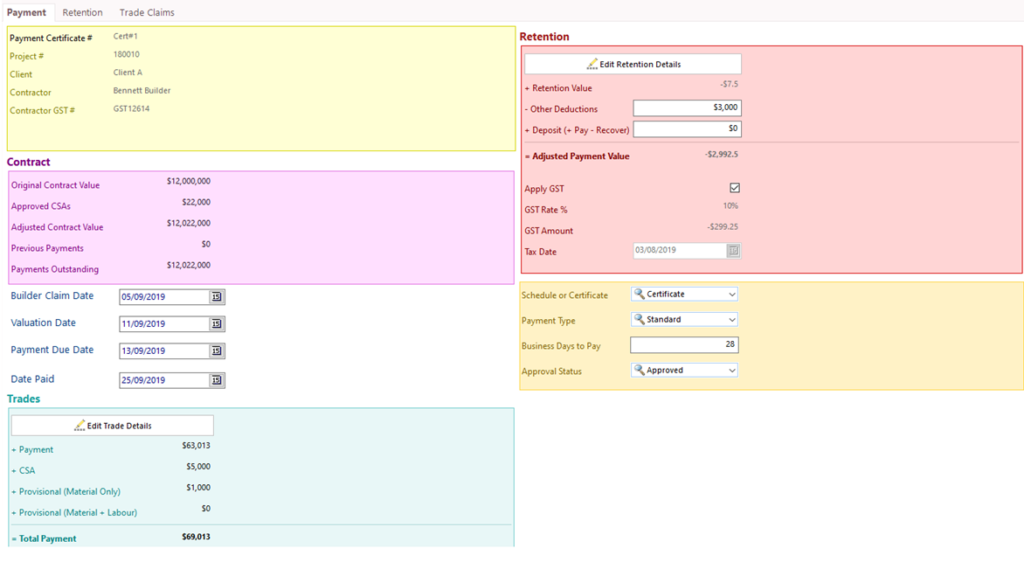 Clicking 'Edit Trade Details' allows entry of the Contractors Claim % or $ against each Trade and your approved Payments with a reason if different.  Selecting a Trade shows all the previous Progress Payments for each Trade

Retention 
eTrack supports different types of Retention such as Bank Guarantees or multi-level retention where a % of the payment amount is retained up to a specified $ value for different levels.   The $ value may itself be a percentage of the Original or Revised Contract Value.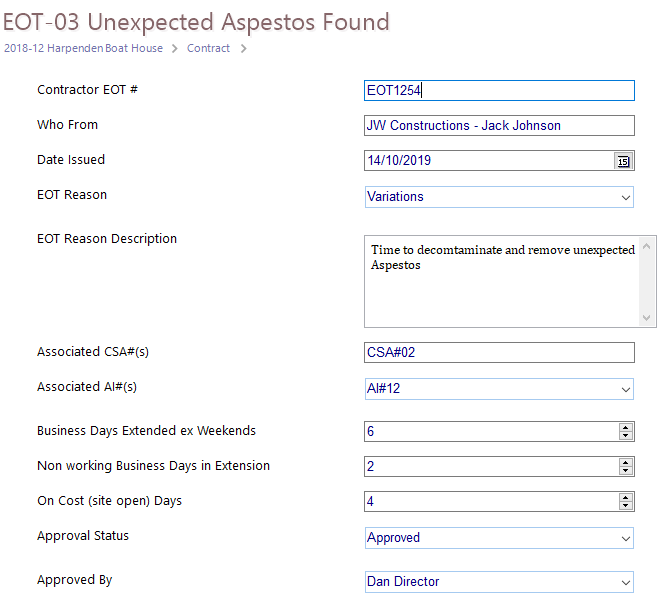 Extension of Time (EOTs)
Maintain a register of Extensions of Time cross referenced back to relevant CSAs and AIs.
Keep track of On Costs to keep the site open based on a daily rate and optionally auto-create an entry in the Trade list to Claim against.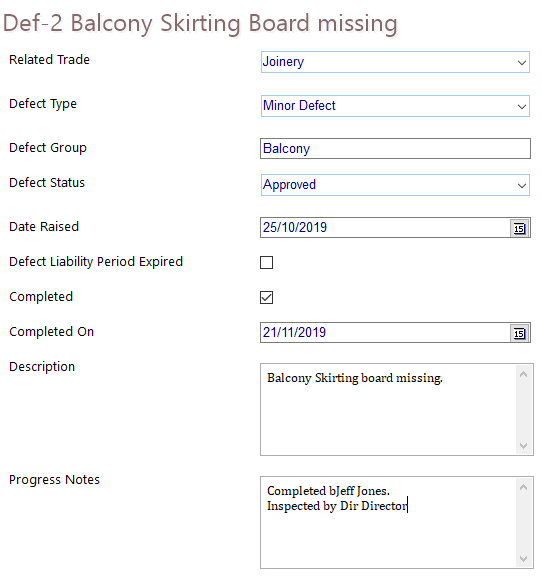 Defects
Use eTrack to maintain a register of defects during the Defect Liability periods.
Relate Defects back to Trades and track their completion.
A Defect Report is created and can be edited in MS Word, then emailed and filed by eTrack.

Scheduling
Contract Admin may uses eTrack's Schedule module to graphically track Milestones lined to Trades etc.
By viewing these milestones on the same schedule as the Project's Contract Admin stage you can ensure adequate staff are assigned and allocated to administrator the construction.
Integration with Document, File and Email Modules
The new Contract Admin module is fully integrated with eTrack's Document, File and Build in Email modules.
Use your existing Microsoft Word or Excel forms and certificates such as an Architect Instruction, Payment Certificate or Progress Payment and have them auto-populate from eTrack.  Edit them in MS Word, convert to PDF and Email them from eTrack with automatic filing.
All the power of eTracks fully featured Document Management System and Built in Email are available with Contract Administration.