NDIS Participant Management System
All-in-One software for Support Coordinators and other NDIS businesses
Welcome to eTrack, the ultimate software to holistically manage Participants, Contacts, Plans, Time, Budgets, Case Notes, Invoices, Compliance, Staff, Documents and Emails.
Whether you are a soul trader or an organisation with multiple offices, hundreds of staff, thousands of Participants and tracking millions of dollars, eTrack will fit your business perfectly.
"
"eTrack reduced the billing process of 400+ Participants from 25,000 clicks and 2 weeks to 20 clicks and 30 minutes. Simply brilliant!"
Jeff Clark
Keystone Counselling and Coordination
"
"Finally! A company with support in real time. Thanks Team"
Leonie Shawcross
Director – The Junction Cairns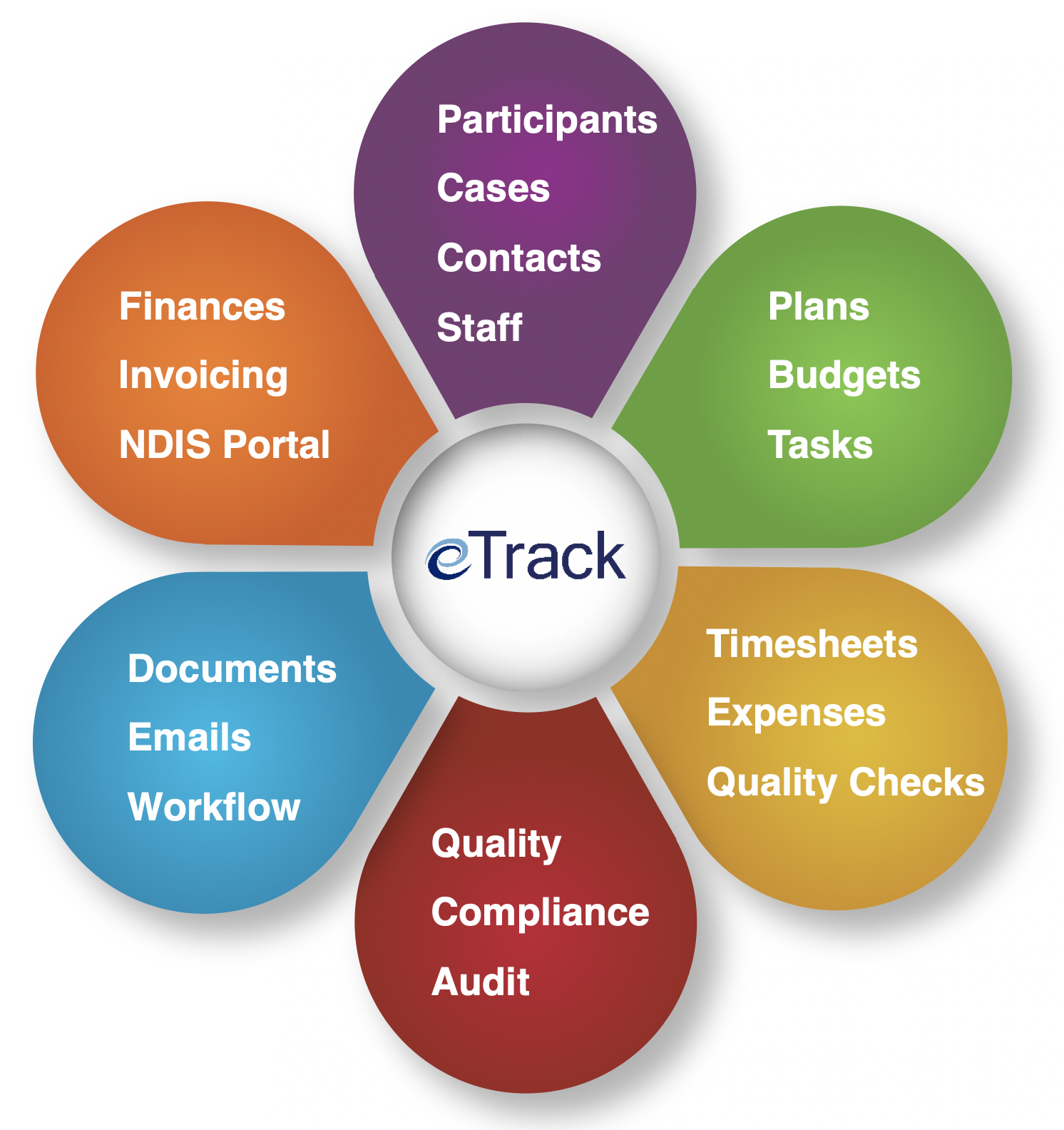 Why eTrack?
Perfectly tailored to Support Coordination but also flexible to support many other businesses.
So beautifully easy to use you'll be up and running in one hour with optional import of your data.
Feature rich with 21 years of continuous development and 5 years of NDIS experience.
Australian made and supported with your data guaranteed to be in Australia.
Pay by the month, no contract, competitively priced with special help for start-ups.
Join the eTrack community sharing ideas, development and business advice.
Benefits
Be profitable and supremely efficient so you have more time for your Participants.
Have your Participants love you for responding quickly and never missing a task.
Get paid quickly thanks to fast, accurate invoicing and bulk uploads.
Take the stress, cost and time out of preparing for Audits and pass first time.
Have happy staff spending more time with Participants rather than doing admin.
Sleep at night knowing all tasks, notes are time are logged.
Grow your business without ever having to change your software system again!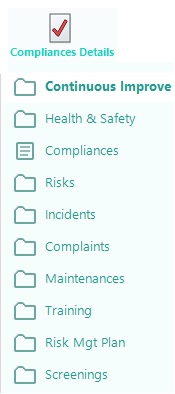 Audit Compliant
Use compliance registers to help prepare and pass your audit
The NDIS Audit is important but can be expensive and take time to prepare. eTrack will reduce preparation costs and time and auditors will see clearly you are proactively implementing quality processes that are key to passing an audit and maintaining registration.
Designed by NDIS auditors, eTrack comes with a centralized, secure set of Compliance Registers to track Incidents, Complaints, Risks, Compliances, WHS, Screenings, Training and Conflicts of Interest etc.
Search, group and filter the registers; control staff access and add lessons learnt to a Continuous Improvement Register.

Manage Participants
Add and search Participants with all their details and relationships
Core to eTrack are your Participants and all their details. Add a new one in a few seconds so you can immediately start adding Case Notes and Booking Time.
Then retrospectively add personal, goal and plan details. Relate providers, plan managers and referral sources and add personal contacts such as nominees, gradians and relations.
Search across the whole system and analyse your data using eTrack's powerful sort, filter, group and collapse features.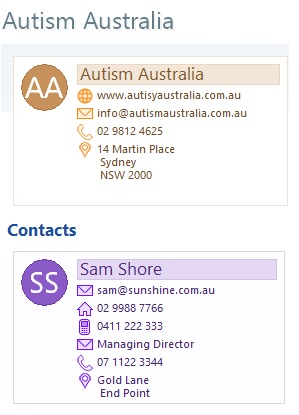 CRM Repository of all Contacts

Use compliance registers to help prepare and pass your audit
Enter details of Plan Managers, LGAs, LACs, Referral Sources and all your Providers, grouped as you wish. Companies may be related to multiple groups and individuals related to multiple companies allowing fast navigation and zero duplication.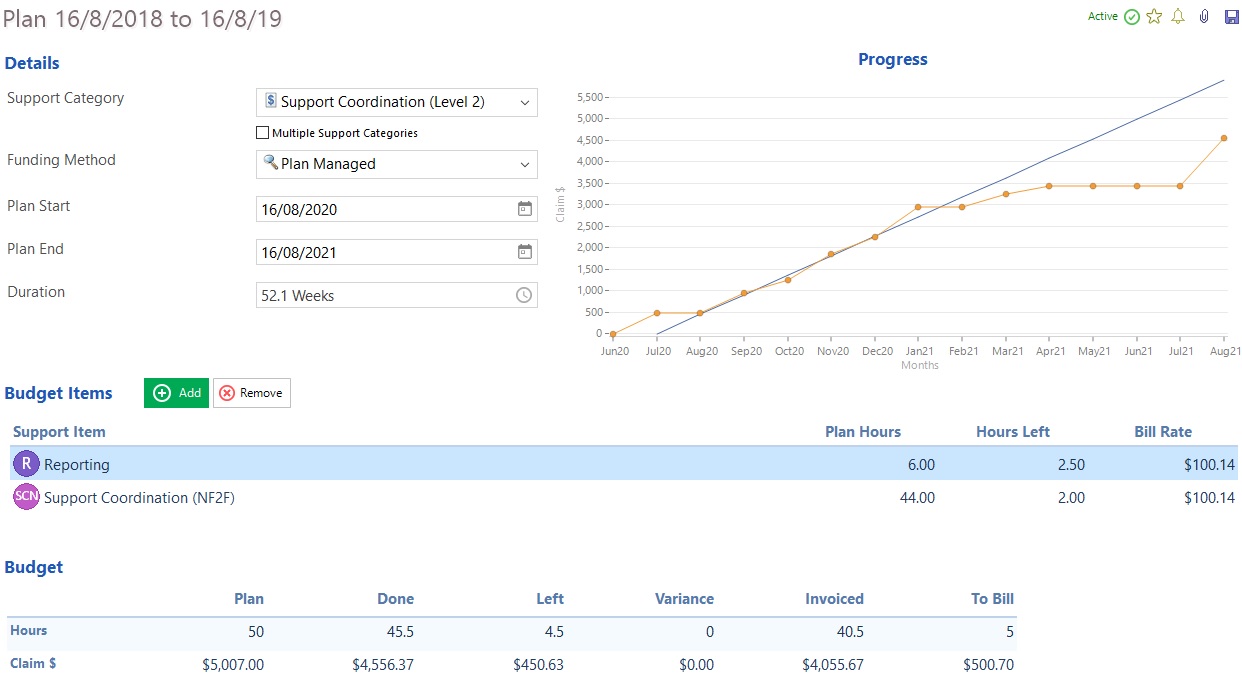 Plan Dashboard
A simple, one page view to define and track Participant's Plans

For each plan, select the support category that defines the rates; the funding method used to auto invoice; enter plan start and end dates and the planned hours. Optionally reserve a budget for reporting and adjust the hours left if onboarding part way through.
Keep track of hours and dollars planned, done, left, gone over, not yet invoiced and billed and view a graph providing a guideline of ideal expenditure throughout the plan period.
Case Notes

So fast and easy to use you'll type as you talk to maximise efficiency

Smoothly scroll through all Case Notes from all staff without having to click each to read.
Click to start typing; book time; create a task by selecting text; link to a Goal; select a Note type and view Signatures entered on the eTrack App. Paste pictures, tables and hyperlinks and on the App record using your voice.
Use security to control which staff can view and edit and if notes become read only after a set period.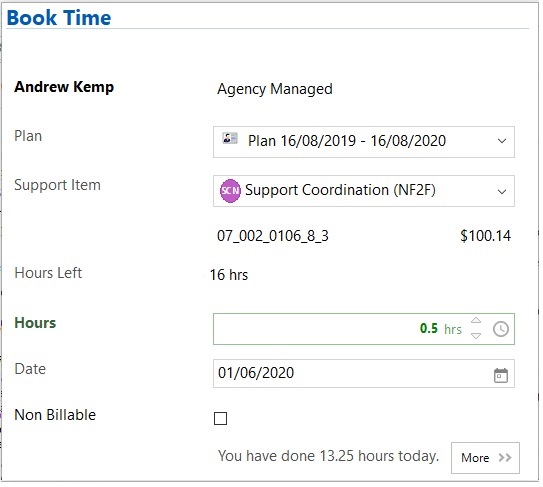 Book Time
Easy entry of time from Case Notes, Tasks and your weekly Timesheet

Book time from Case Notes, Tasks or a weekly Timesheet. Select the Participant's Plan, Support Category and Line Item and view the associated activity code and rate. See the hours left reduced as time is entered. Optionally select a budget item, change the date or choose not to bill the time.
Setup eTrack to book time to any of the 1000+ NDIS price codes and the dialog will intelligently change to be as simple as needed.

Invoicing and Bulk Uploads

Invoice all Participants in a few clicks + bulk upload with minimal rejections

Based on a plan's funding method, eTrack intelligently creates Invoices for all Participants at once in just a few clicks. Emails are automatically populated and a pdf of the invoice attached. Optionally edit the emails and send in one go. Then export them all to Xero, MYOB or Recon etc.
Similarly do a bulk upload to the NDIS Portal in just a few clicks for all Agency Managed Participants at once.
eTrack's invoicing understands the intricacies of the NDIS bulk upload and Plan Manager invoice requirements and applies many checks to almost eliminate rejections.

Task Management
Sleep well at night knowing all staff actions are logged

Each day, proactively work through your 'to do' list of Tasks. Tick Done; update a recuring task's due date; reassign to a colleague, add some notes and book time.
Tasks such as the End of Plan Review come from Participant templates; others are created by selecting case note text or you can create Tasks in the Participant's plan.
View Tasks by participant, staff member, plan manager or provider and cross reference tasks with Goals.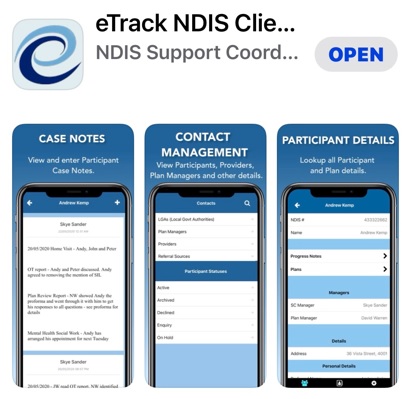 Smartphone App

Perfect for Support Workers, plus when travelling or to multi-task at your desk

The eTrack App is perfect for Support Workers to be notified of Tasks and to view Participant details, but also extensively used by Support Coordinators when out and about and also to multi-task while at the computer.
A comprehensive addition to eTrack it provides access to all Participant details including Plans, Goals, Case Notes, Time, Providers and Plan Managers etc.
Book time, optionally using a timer, add Case Notes and record a signature from the Participant that is immediately synchronised with eTrack.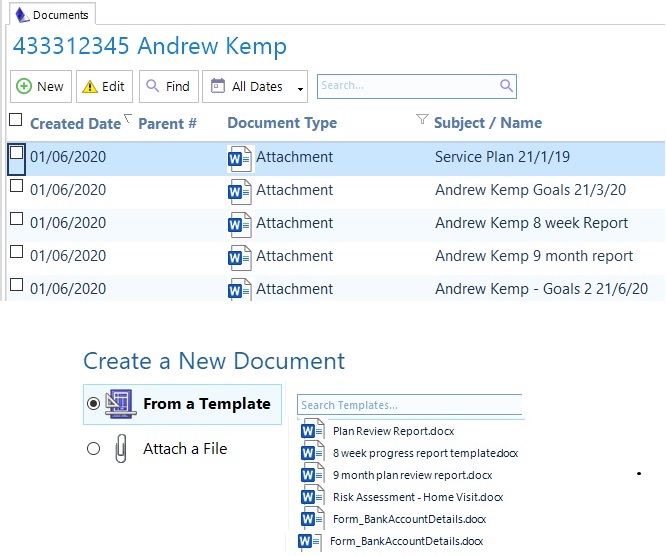 Document Management
Holistic view of all Participant and Policy Documents

eTrack includes a fully featured document management system, synchronised with your cloud-based storage such as Onedrive, Dropbox or Googledrive.
Simple and fast to use, eTrack automatically indexes all of your documents with no need to check in/out or upload/download files. eTrack can record and search millions of documents across multiple servers and offices using extensive meta data.
Quickly create new documents, automatically populating them with fields from eTrack.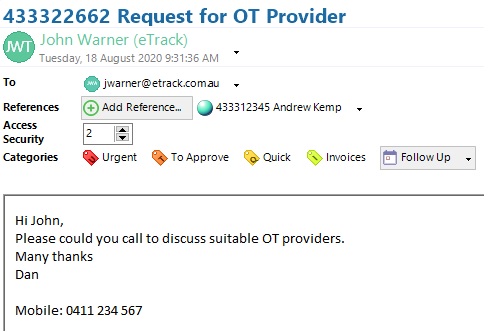 Synchronised Email

Auto file your emails with two-way synchronisation with your email system
eTrack has a fully featured Email system that synchronises with your existing Email such as Office365, Gmail, Outlook or Apple Mail etc. Emails are automatically filed based on rules and fully integrated with the rest of eTrack.
Create new emails, attach documents, add security and auto file.
A cut down version of the Email module used to email invoices is complementary.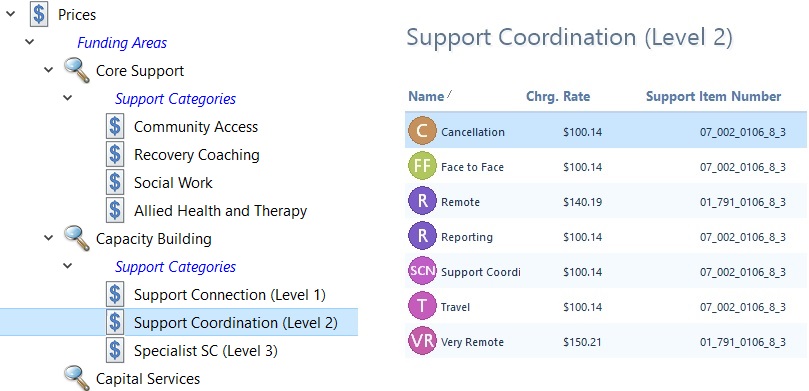 NDIS Prices
Flexible and scalable to support the whole NDIS Price guide
Beautiful in its simplicity to support any structure and combination of the 1000+ rates from the NDIS Price Guide plus all likely future complexities.
Rates are defined in a 3-level structure of Funding Areas, Support Categories and Line Items. Add only what you need but expand as you wish. For example: Support Coordination, Psychosocial Recovery Coaching, OT, Behaviour Support, Community Access, Allied Health etc. etc.
For complex funding, setup multiple concurrent plans or multiple support categories within one plan or combine line items from multiple Support Categories, eTrack is powerfully flexible and scalable.
Prices are automatically updated (or you can opt out!) and booked time maybe backdated to the new rates.

Participant Service Funds

Track the funding and allocation of all Participant's funds
A likely question from Participants is when does my plan finish and what funds are remaining. As a Support Coordinator it is good if have this information quickly accessible in eTrack.
eTrack allows you to set up a Service register of all funds in a Participant's plan and track the allocation and balance.
Sign Up to our Newsletter